Here i am at my third place of residence. Here it is, forever at the right temperature and always in this beautiful summer night light. Anywhere but a flat in camberwell at the moment.
Basically, it's not worth describing this place without music to accompany it. Who else could provide the soundtrack other than Ennio Morricone. My favourite record of all time, technically not a record but a c.d my mum had when i was little. Ennio Morricone singles collection. If i could i'd invite you all round to this marvellous place and listen to this in it's entirety i really would, just so i could see your reactions as you heard this music. This c.d is the soundtrack to my life, in every situation.
Sunshine in france in a little caravan in the middle of nowhere my mum playing this so loud out of the double doors, lying down in ruskin park, headphones on watching the ducks and the over enthusiastic tennis players, falling asleep with your girlfriend after a long night forgetting you have GCSE's the next day or listening to this music with your old man at christmas. But now, overlooking what i imagine to be an american town in somehwere like colorado, martini in hand, dapper as steve mc queen in the thomas crown affair beautiful woman by my side this on in the background. (get real).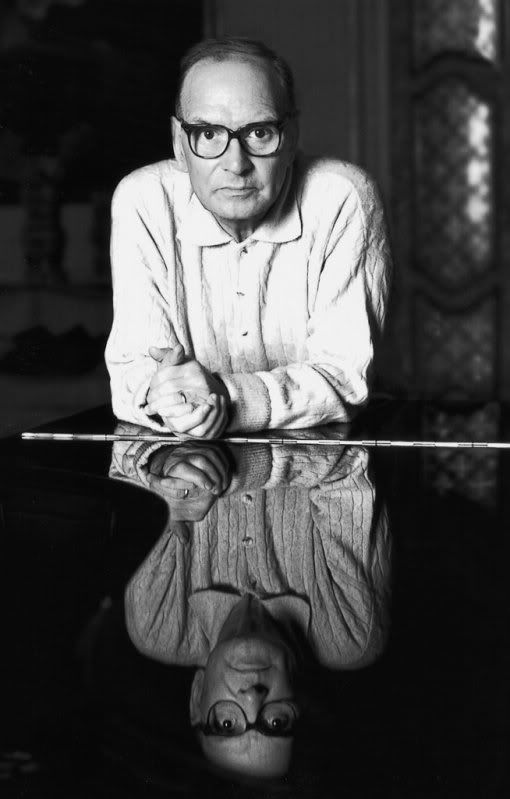 I will not stop until i have every single one of these incredible tracks on record. These songs will follow me forever and hopefully if you don't already know and love these records they will you to. Like most of the best records on the planet they create the feeling of extreme happiness and following close behind, the inevitable feeling of intense sadness with a change of key or beat of the drum. I hope this post doesn't come across as soppy but more as an introduction to music that has no definate place, music that lives above everything although soundtracks to films and written around an idea they unlike a lot of the films prevail and are pieces of the most gut wrenching, heart pounding beautiful music that has ever existed and stands alone, able to create thousands of different atmospheres and scenarios in your head that even the original scenes the songs are featured in are just one of the many things this music could be set to. I once saw on the sky arts channel, morricone playing i think one of these songs in Venice, it was pretty tacky the videos that accompanied them but one of the women he had come on stage and sing with him was unforgettable. Dressed in what i remember, a red gown with the biggest fucking sleeves you've ever seen, arms outstretched belting out the most beautiful chanting chorus, i was pretty absorbed until my grandad said " how the fuck does she wipe her arse in that".
La Moglie Piu' Bella
L'Assoluto Naturale
Sambravi Desiderare
Sauna
Plume Di Cristallo
Violenza In Attesa
Come Un Miracolo
Lei Se Ne Muore
Come Guiletta & Romeo
Let me know what you think...