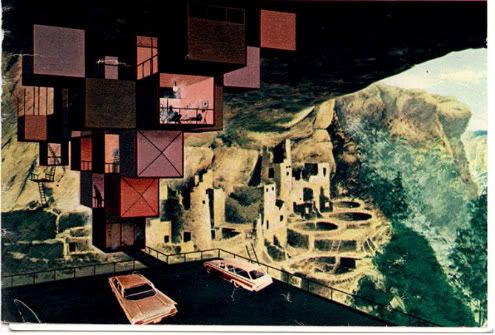 This week i've moved here, in fact i've bought several properties by the same architect (artist).
"Charles Harper painted homes designed by Rudy Hermes as photomontage backdrops to introduce the 1960 Fords in November 1959's Ford Times magazine... 'the ultimate in prefabrication since it has no footings or foundation.'"—Dwell.
I decided to have the one and only cosmic spaceman Bruno Leys head up this post. His eerie sounds and funked up rhythms illustrate more or less my new houses in my head, it's the only place to be when listening to these songs. Only problem was I didn't know whether to dedicate a blog post to Bruno Leys or to Rudy Hermes, i think they both pretty much compliment each other perfectly!
Maintenant Je Suis En Voyou
Hallucinations
And a download for one of the best canadian psych numbers http://www.divshare.com/download/10676691-4a9