It's been long overdue i do apologize for letting this slip a bit. Two months since the last post. I've been doing the Topman Ctrl blog which has been alright. Had an interview which lasted the best of four hours and they've updated the site on things i've said, so not my blog technically. Enough about that, i have some exciting finds to report!
Firstly, the Washington 4 piece 'Reeks And The Wrecks'. Sleazy, trashy, dreamy, otherworldly, everything about their intriguing 2005 LP entitled 'Knife Hits' mechanically strides along with menace and raw power. I've been listening to the album solidly this morning and find myself gobsmacked at every corner. It's a noisy masterpiece, filled with thumping bass lines and whirling electronics with an old trombone wheezing heavily behind. My favorite track on the album has to be 'Stoners On Fire' it sticks out as it is a track purely based on electronics, drum machines and a spooky backwards vocal. Pure filth and a really fun record to listen to.
Here is a link to there myspace, they sum themselves up really well i think
http://www.myspace.com/reeksandthewrecks
And here is a download link
http://www.mediafire.com/?2imnzytf5yz
-----------------------------------------------------------------------
HOLY FUZZ
I've recently been trying to do podcasts on Garage band but fucking hate the sound of my own voice so i've given up and just started making mixes which somehow always end up with me putting tracks through stupid voice changing effects which is really funny but seriously a shit way to play people music you're really passionate about for the first time, therefore i've decided to stick to this and give you the albums straight.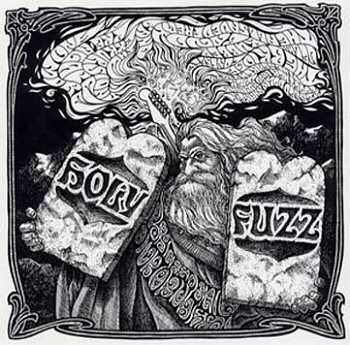 Now, a compilation which is great fun. Holy Fuzz off the Hidden Visions record label released in 1998. I originally bought it for one thing and that was The Search Party track the news is you, which is brilliant - beautiful folky womens vocal over thundering heavy psych guitars! Amazing on big speakers the swelling guitars and the beautiful vocal swimming in and out is just acid drenched and is the height of celestial beauty on this album. I tried to buy the search party album directly but check out the price of it,
http://www.popsike.com/php/quicksearch.php?searchtext=the+search+party&x=0&y=0
Ouch indeed, a few of the tracks on this comp are just normal bog standard American psych numbers, but to make up for them being a little less electrifying than the others, you just have to listen to some of the lyrics and imagine the circumstances under which these songs were written, Christian hard rock societies - i imagine there are some fantastic stories. I am at this moment in time waiting for my copy of this to arrive, their is a booklet written by the Hidden Visions Label in it so when i get it i'll report back on some of the amazing stories and descriptions i'm hoping the booklet beholds. The guitar work on this will melt your face and the groove on some of the tracks is pretty hot. Let me know what you think of it, i personally really enjoyed listening to it and am quite looking forward to delving into this 'Jesus Music Era' stuff. Ha! ( I really do apologise about the amount of files, i could only work out how to do single files not whole album files, nevertheless download it all )
The Exkursions - It's Been Sent Down http://www.megaupload.com/?d=ISF97D64
Selha - Romans http://www.megaupload.com/?d=SU7CW4OS
The Bridge - Jesus http://www.megaupload.com/?d=L831XPEC
The Search Party - The News Is Youhttp://www.megaupload.com/?d=PDZD2EUM
Pre-Agape - In The Lighthttp://www.megaupload.com/?d=ZHYNHQED
Stonewood Cross - Majic Man http://www.megaupload.com/?d=3WO4K5XA
All Saved Freak Band - All Across The Nation http://www.megaupload.com/?d=ZNXKDFLV
The Search Party - You And I http://www.megaupload.com/?d=EFMD5TF3
The Exkursions - Dry Ground http://www.megaupload.com/?d=MLSIN2YG
The Concrete Rubber Band - Christian http://www.megaupload.com/?d=3EQ2VULI
Pressed Down, Shaken Together And Running Over - Pressed Down, Shaken Together And Running Over.http://www.megaupload.com/?d=RME39C9C
Agape - Rejoice http://www.megaupload.com/?d=JVKUANPI
------------------------------------------------------------------------
MADELEINE CHARTAND - ANI KUNI!!
Oh! Also, this record was on ebay recently and it is absolutely fantastic! It was really massive in Quebec in 1972 i think. It's by the captivating Madeleine Chartand, this track is called 'Ani Kuni.' I'm completely addicted, the electric sitar in the middle everything about it. Let me know what you think, i can't stop listening..
--------------------------------------------------------------------------
カルメン・マキ&OZ-閉ざされた街
This is what i always imagined the yeti album by amon dull 2 performed to look like. This women is incredible. One of the coolest beginnings to a live show! It get's a bit much after a while but still brilliant viewing!